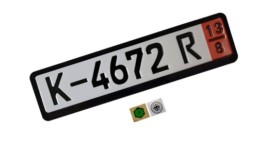 Complete Zoll German Tourist EEC European License Plate Tag and Frame
---
---
Description

Complete Zoll Germany German Tourist EEC European Front Reflective Reflector License Plate Tag and Frame (Set / Kit) for Audi A1 A2 A3 S3 RS3 A4 S4 RS4 A5 S5 RS5 A6 S6 RS6 Allroad A7 U2123 A8 S8 Q5 Q7 Quattro Coupe GT R8 GT TT TTS V8 50 72 75 80 90 S2 RS2 Cabriolet 100 200 5000 4000CS Volkswagen VW 181 Thing Amorok Beetle Caddy Corrado Dasher Eos Fox Gol Saeiro Parati Fox CrossFox Sacefox Gold Rabbit Caribe Golf Plus Jetta Bora Vento Karmann Ghia Lupo New Beetle Passat Quantum Phaeton Polo Scirocco Sharan SP2 Tiguan Toureg Touran Transporter Caravelle Microbus Vanagon Eurovan Type 3 4 Routan Vento BMW 1 3 5 6 7 8 Series M3 M5 M6 303 315 318 320 i 321 325 326 327 328 329 335 340 501 502 503 525 527 535 507 600 700 720 725 735 755 1500 1600 1800 2000 2002 2500 2800 3.0S 3.0Si 3.3Li Csi Mercedes Benz A B C CL CLC CLK CLK-GTR CLS E G GL GLK M ML R S SL SLK SLR McLaren SLS V Class Porsche 356 911 912 930 914 924 928 944 959 968 Boxter Carrera GT Cayenne Cayman Panamera

Complete Kit (You Will Receive One (1) Random ZOLL License Plate and License Plate FRAME made of high quality ABS plastic).
100% Aluminum (won't rust, get brittle or crack).
Reflective Random Numbered License Plate (just like a real license division issue). This plate reflects when oncoming lights shine upon the plate for HIGH VISIBILITY. Real Embossed Letters and Numbers (Authentic replica EXACTLY as issued at licensing division. Does NOT look like a cheap toy). Plates are NOT pre-drilled.
Dimensions are 20.5″(520mm) Length x 4.5″(114mm) Width x 1mm Thick (We sell the only TRUE-SIZED license plate).
The Zoll License Plate is the German governmental issued license plate to TOURIST when in Germany. They are different from the German License Plate issued to German RESIDENTS which are blue. This plate is perfect for those that want to appear as if they have toured Germany on vacation and driven on the Autobahn at speeds unheard of anywhere else on earth. All kidding aside, they are very cool and give a wonderful upgraded touch to the look of your car! The license plate is EXACT specs as the ones issued in GERMANY. It is made of 100% ALUMINUM so it will never rust. It is EMBOSSED and has a white reflective background for high visibility. The dimensions of the actual plate is approximately 20.5″(520mm) Length x 4.5″(114mm) Width x 1mm Thick. The Zoll License Plate is an EXACT replica of German Standard issued license plates to tourists. The RED section, on the right portion of the plate specified the month and year of expiration. The Alpha-numeric numbers on the left side are all RANDOM and different to every purchaser. You will receive a RANDOM NUMBERED LICENSE exactly as issued in GERMANY to TOURISTS. This is NOT a MASS PRODUCED license plate with the same numbers like some sellers offer. Empire Racing Parts assures that YOU WILL RECEIVE A DIFFERENT LICENSE PLATE NUMBER THAT WILL NOT BE ISSUED TO ANYONE ELSE making your vehicle authentic and unique.